International award-winning, residential designer, John Robert Wiltgen, takes the reader on a roller coaster ride from his traumatic beginning as an 8-year-old, diagnosed with type 1 diabetes, through his numerous–sometimes death-defying situations in the years to follow. The Candy In My Pocket: The Wild and Crazy Life of a Type 1 Diabetic is about more than living your best life possible while dealing with the countless challenges of a debilitating illness; it is a testimony to the power of the human spirit to take risks and challenge yourself to doing more than you thought possible.
His diagnosis, back in 1967, meant his life would certainly be much shorter than most. As a result of living with a disease that instigates complications resulting in blindness, kidney failure, heart disease, peripheral neuropathy, Charcot foot, cellulitis, osteomyelitis, amputation, pulmonary fibrosis Wiltgen has survived many of the most life-changing health issues. His weakened immune system led to a battle with a deadly combination of various pneumonias and in early 2020 he defied COVID 19 when the pandemic was at its most frightening.
Wiltgen had the fantastic fortune, at an early age, to work in a professional theater with the likes of Zsa Zsa Gabor, Imogene Coca and Sid Cesar. Encouragement from mentors such as these gave him the confidence to pursue dreams that would normally have been out of the reach for someone with his health situation.
After being dismissed from the Ray Vogue School of Design, he struggled with his business partners in Byron, Wiltgen and Associates who had him arrested. When they engaged in a hostile take-over of the firm one would think his design career was over at 19. Twelve years later he was named the youngest expert to receive the Chicago Merchandise Mart's "Outstanding Achievement in the Design Profession" award and has collected forty-four other accolades during his 40-year career.
Wiltgen has designed homes for celebrities, world leaders and other luminaries; vastly different from what he first expected after going completely blind in his early twenties then regaining limited vision in one eye after countless surgeries. His awards and design installations are featured in over two hundred shelter magazines. They're also included in hardcover books and shown on HGTV's Homes Across America, I Want That! Baths, I Want That! Kitchens, NBC's Open House, FOX TV and WTTW.
This book is John Robert Wiltgen's tribute to people from all backgrounds who struggle with remaining positive when life undermines their confidence. It is also a way for him to share his insight and raise awareness about the countless complications of a disease which takes the life of more than 4.2 million people worldwide each year. If you live with a chronic, debilitating disease, you will find inspiration from John's successes and his struggles. He strongly believes in fighting adversity as life's "sweet reminders" along the way have kept him going.
A PORTION OF THE PROFITS RESULTING FROM THE SALE OF THIS BOOK WILL BE DONATED TO THE JUVENILE DIABETES RESEARCH FOUNDATION.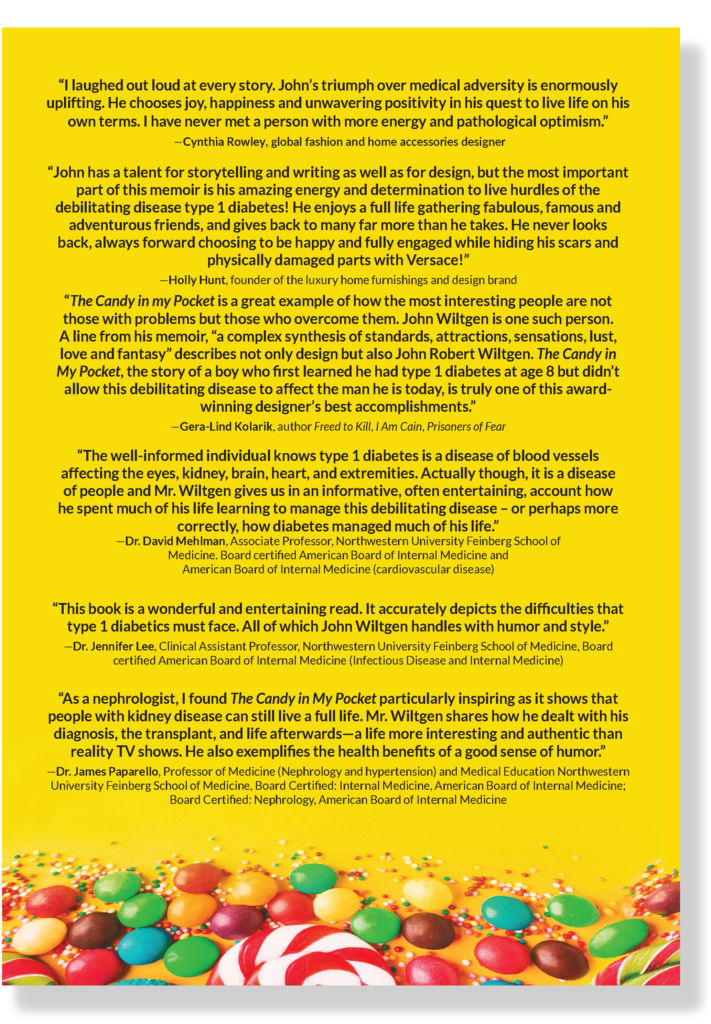 Leave A Comment Regarding
The Candy In My Pocket:

The Wild and Crazy Life of a Type 1 Diabetic