Hard to believe but John Robert Wiltgen Design, Inc. has now been in business for almost 30 years –three decades. Yikes!
This auspicious occasion has caused me to reflect on various events in my life and career – most of which seem to be centered in dining rooms. Mine, that is. After all, the dining room is where both the body and spirit are nourished…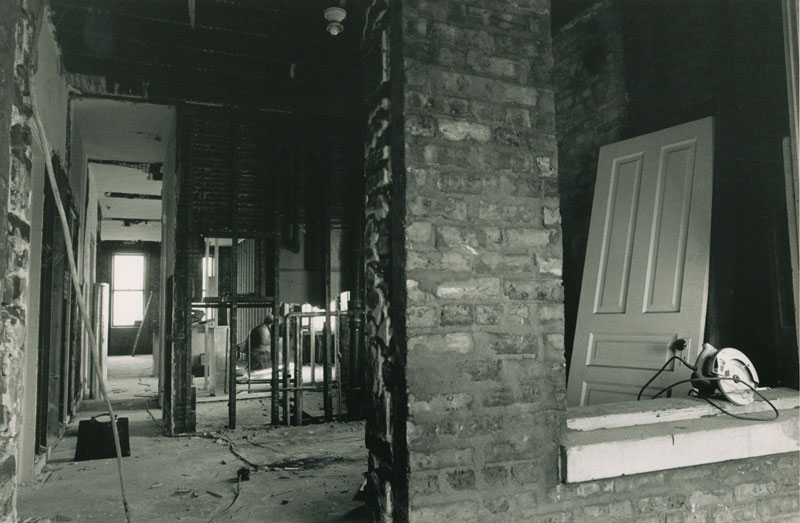 My odyssey began in 1981 when I launched my professional practice and bought my first "real" home. I had been living in a small condo in Old Town when I discovered a dilapidated three flat at 1922 N. Honore. Did I say dilapidated? Look at the photo above. I plunked down $27,000 for a disaster scheduled for court-ordered demolition. It was located in what my friend, Bill Senne, would later christen Bucktown, USA, though the area had not yet experienced the gentrification that would transform it into one of Chicago's trendiest "hoods." But hey! Chalk outlines on the sidewalks – it was going to be home and, as a designer, I was supposed to have the vision to see what it could become. Picture me in cut-off jeans lugging drywall up two flights of stairs and then installing it with a high school friend I had coerced to assist in the task. To speed up the process I hosted an ultra chic "Bring Your Own Crowbar'' party on the rooftop and served gourmet hot dogs and beer! It put a few holes in my roof – the casualties of war!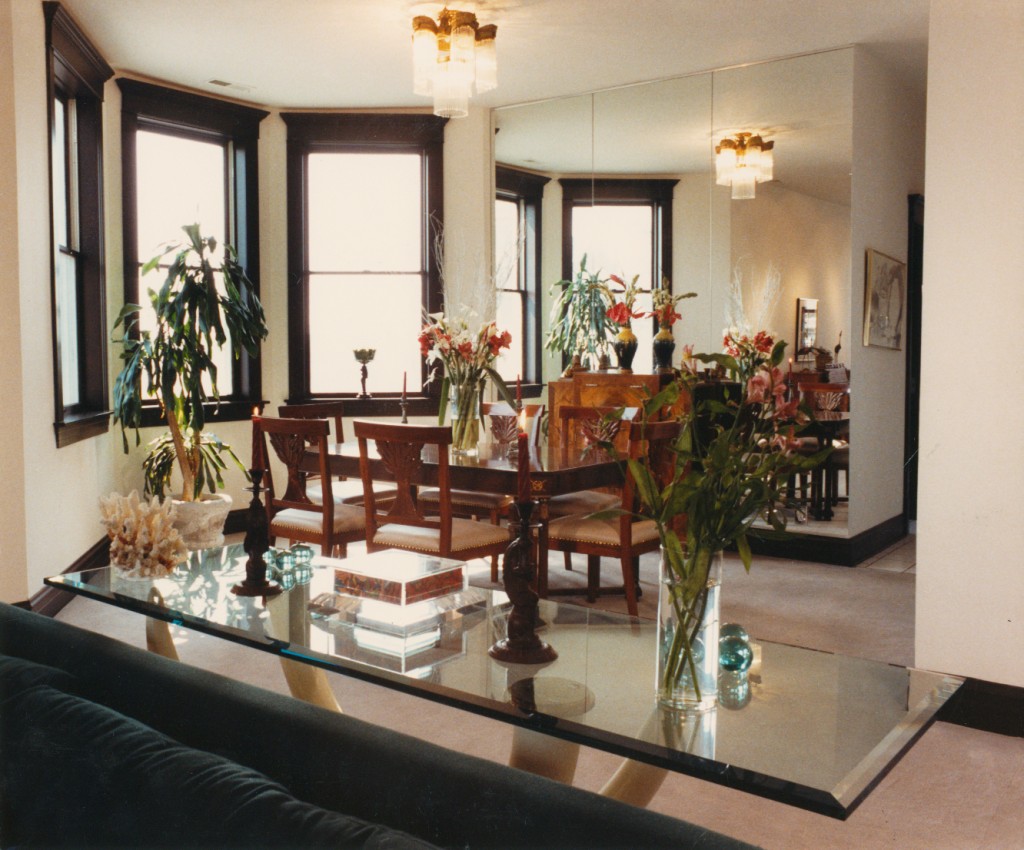 My first dining room! An English Regency table and chairs that traveled with me to several other locations held center stage. I felt the backbreaking work had accomplished its purpose when Pat Gerlach, then editor of the Daily Herald Home & Garden section, wrote about my home. Pat subsequently followed my career and later became my publicist, a task that keeps her from harassing other designers.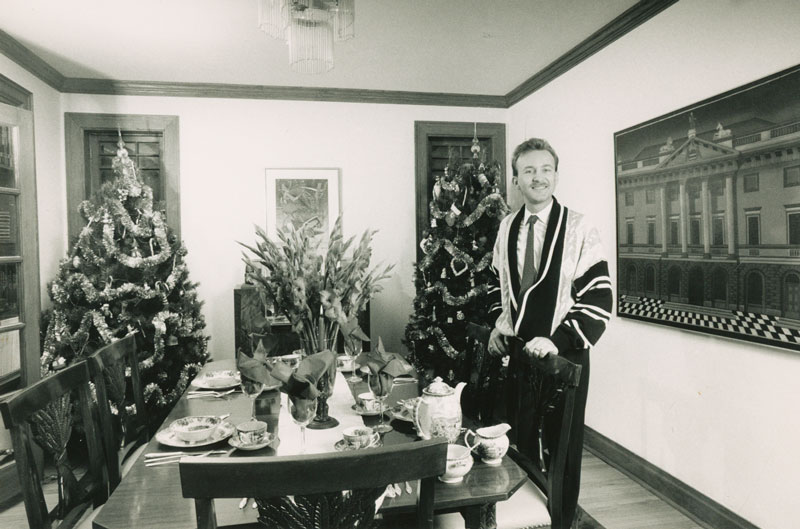 Within three years I left Honore Street for new digs located immediately behind the Belmont Hotel. My new building included a six car garage I counted on being demolished by one of the hotel's supply trucks that had to turn the corner of the alley. No such luck! But my new dining room, again showcasing the Regency table and chairs, was completed just in time for Christmas. After remodeling all of the kitchens and baths in the building, sanding the hardwood floors, and painting, it was time to decorate with holiday trees. Two in the dining room. Another in the living room, along with a reindeer head on the fireplace mantel! But my favorite element in that dining room was the stylized Neo-classic painting I found at the Chicago Rozmallin showroom – a now defunct utterly gorgeous source I sorely miss. But back to the painting – I posed proudly beside it for a holiday story. That was obviously before Versace assumed command of my wardrobe.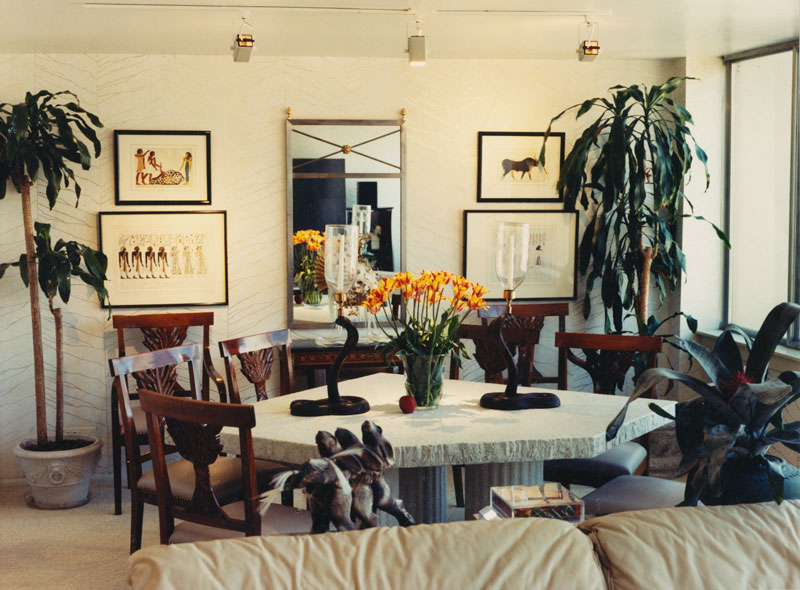 By the end of the 80s I reasoned the Gold Coast was finally ready for me. I still cherished the Regency dining chairs but moved the table to our warehouse until I had it completely refinished for use in one of the five model homes we created at The Condominium Residences at Chicago Place. I designed a new more free form stone topped table and sold versions of it through the elegant Rozmallin Showroom. In this era I began collecting Egyptian art work; the circa 1820s prints became the framework for this dining room's decoration. The prints came from books published soon after Napoleon's military conquest of Egypt. Antique, hand carved, Rosewood candle holders in the likeness of cobra's I still use today!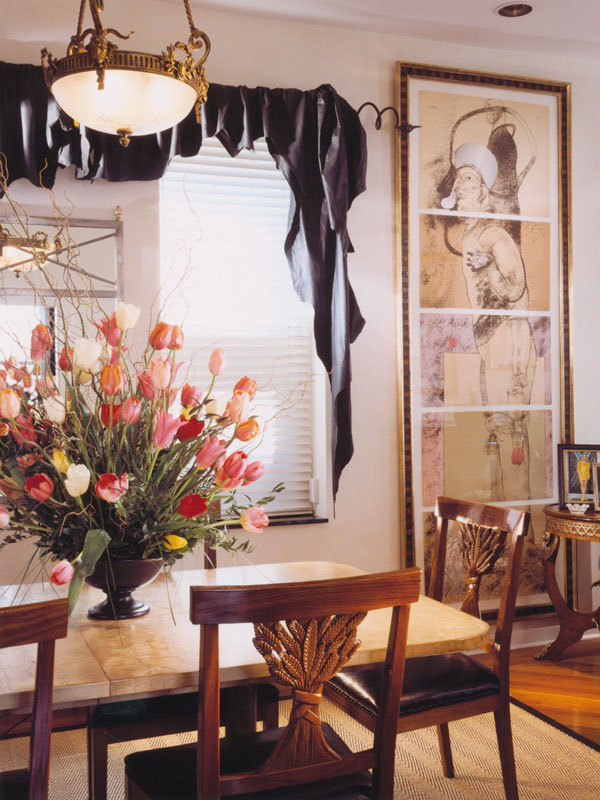 The 1990′s marked my return to Bucktown in a six flat I remodeled into three large apartments, once again performing most of the demo work myself. Can you believe that? My now signature Regency dining chairs came along but this time bellied up to a new crackle finish extension table I particularly liked. The room was anchored by a Santos mahogany floor; the natural color was so beautiful. The draperies were leather hides tossed (literally) over dramatic black iron rods with curled finials. An antique chandelier, purchased from my friend Jim Neuman at New Metalcrafts, was tantamount to a piece of hanging sculpture. I still have this lovely light fixture today. I honored the setting with a framed photograph of my dear friend Lara posing in front of the doorway to her home in Brussels; and though she has lived all around the world, she has never forgotten me. I've used the same photo in numerous model homes I've designed throughout the city and today keep it in my own dressing room.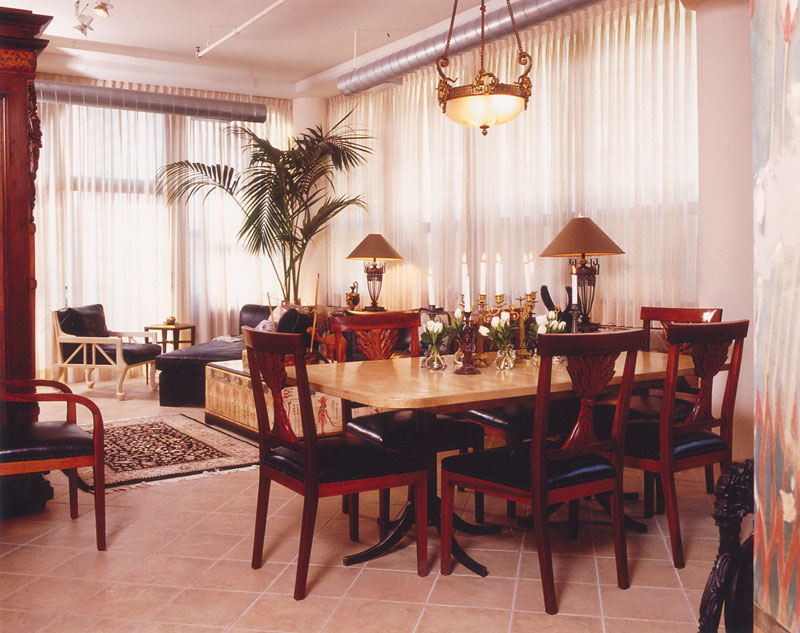 My current Egyptian Temple is another story altogether. In the late 1990′s we created the models for Metropolitan Place,the condominium conversion of the Florsheim Shoe Factory and Corporate Headquarters. I was mesmerized by the capitals on its concrete columns which reminded me of lotus leaf details at the Temple of Luxor. They became my inspiration for transforming this home to reflect all things Egyptian. By this time I had acquired a reasonable collection of antiquity including some excellent examples of Roman glass, Attica pottery and Egyptian artifacts. My faithful Regency chairs, crackle finished dining table and antique chandelier made the move with me. They have served me well.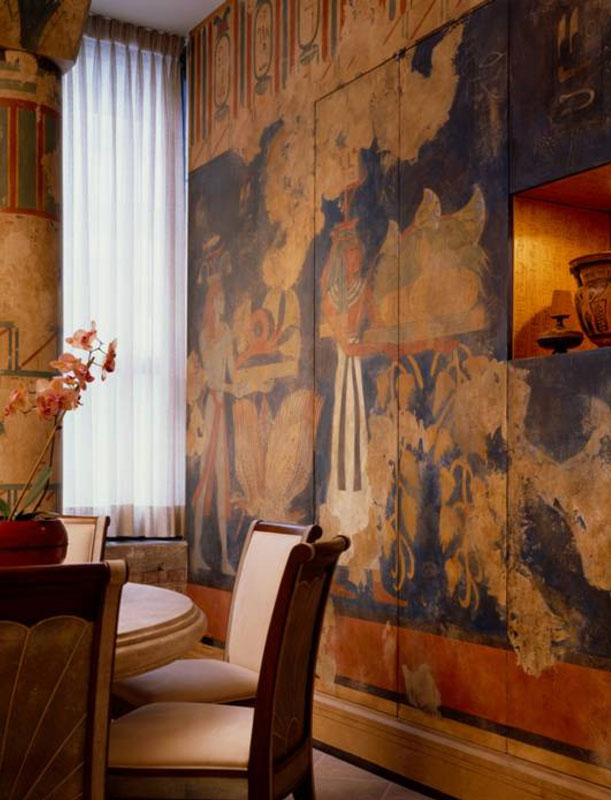 But now my dining room has entered the 21st century. The Regency chairs are gone; so is the crackle top extension table that I purchased for my third building in Bucktown. The chandelier is ensconced elsewhere in my home. The metamorphosis came after a study trip to Venice and Northern Italy – an opportunity for me to become more intimate with the work of my favorite architect and muse, Andrea Palladio. Once back home, I immediately ordered walls that had been left blank filled with the heiroglypics which already covered the gallery and kitchen. As you all know, I believe you can NEVER have enough hieroglyphs in your home!
This has been an amazing year for John Robert Wiltgen Design, Inc. Thank you one and all for your support, your referrals, and especially your friendship. And, please forward this e-mail to anyone you think might be interested in receiving this information.