Despite all the complications I endured from my type 1 diabetes, I was able to build a reputation and brand as an international, award winning, designer. In November of 2016, John Robert Wiltgen Design, Inc. was honored to receive two more awards from the Home Builder's Association of Greater Chicago. At the time of my retirement I collected 38 prestigious awards. Three more were presented to me AFTER my retirement.
My team won a Gold Key for a home we created at The Carlyle (1040 N. Lake Shore Drive).
The walls are finished in a custom waxed Venetian plaster. Newly installed hardwood floors, stained charcoal, are the perfect contrast for the updated pieces from our client's furniture, art and accessories collection. We designed a custom 9-foot long two tier Selenite chandelier to compliment the architectural detailing of the existing tray ceiling in the foyer.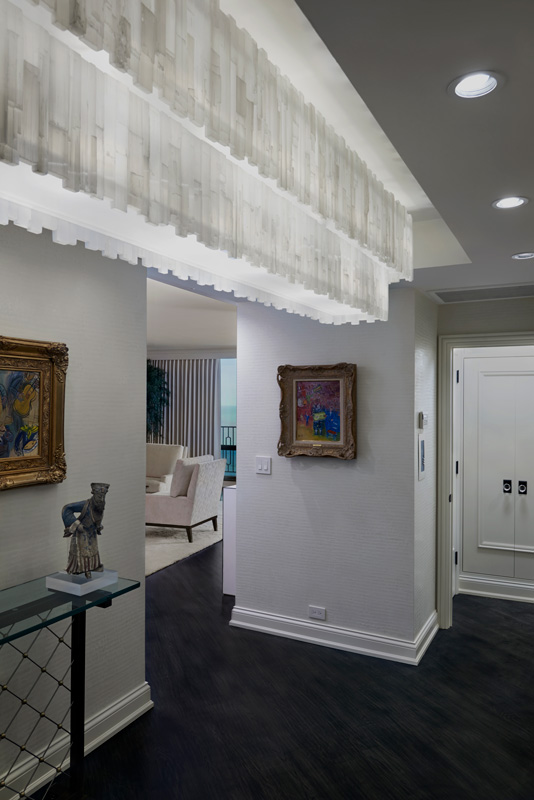 A floating backlit mirror and decorative sconces add drama to the powder room's existing glass bowl and countertop.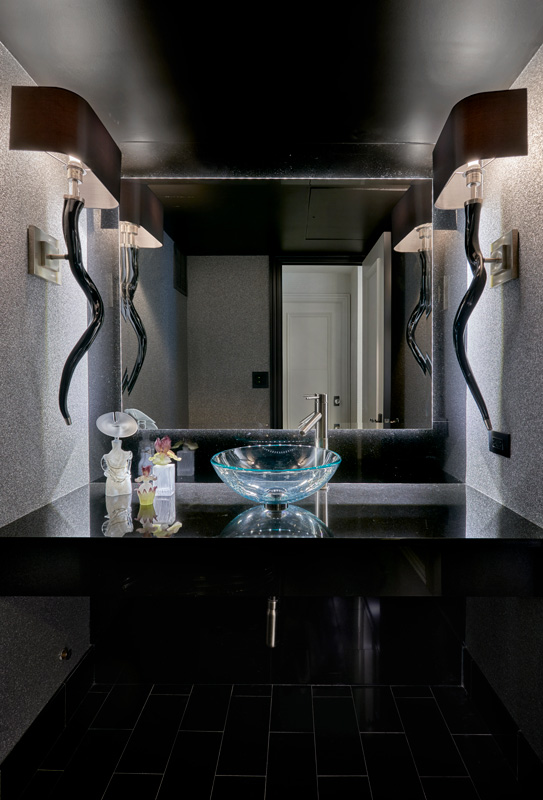 The former dining room was given new life as a library with a newly installed electric fireplace. A nondescript office chair from our client's previous home office embraced a stylish new identity once it was wrapped in fur.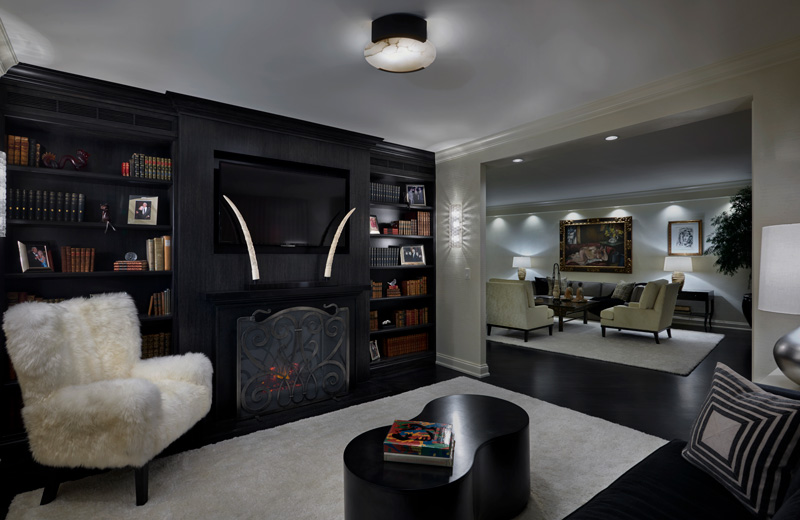 The kitchen table is cleverly built into the window sill to graciously capture space as well as the gorgeous view of Lake Michigan and East Lake Shore Drive.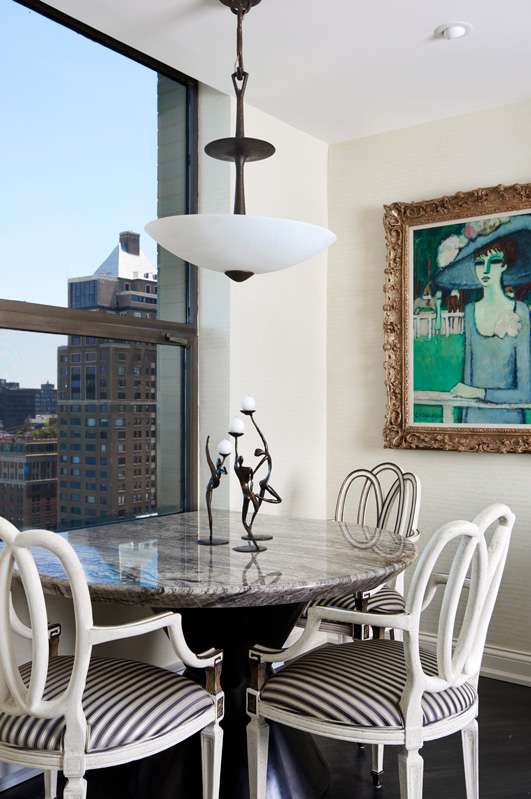 Our client is a meticulous fashionista who has macular degeneration. Since I had retinopathy in my early 20's I understood her need for excellent lighting. It played a leading roll in all of our projects. We created a wall of cabinetry with silver leaf center panels that was illuminated both on the inside and outside with LED lights.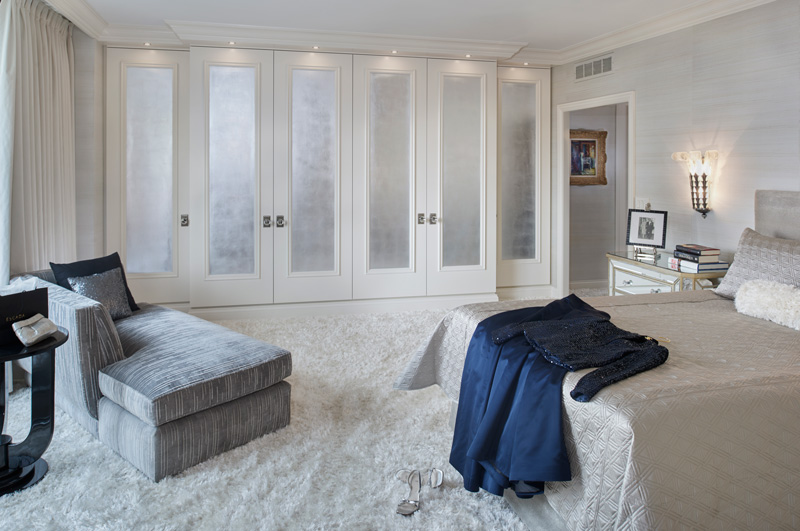 Our second award is the Home Builder's Association's coveted Crystal Key for a home at 2550 Lakeview, Lincoln Park's elegantly gracious crown jewel. We refined an erudite, well-travelled couple's Chicago home with personal touches reflecting their cultured lifestyle. It is the second award winning home we created in this luxurious residential tower.
We removed several vestibules from the entry and modified the lighting creating a dramatically illuminated gallery that effectively showcases our clients' art.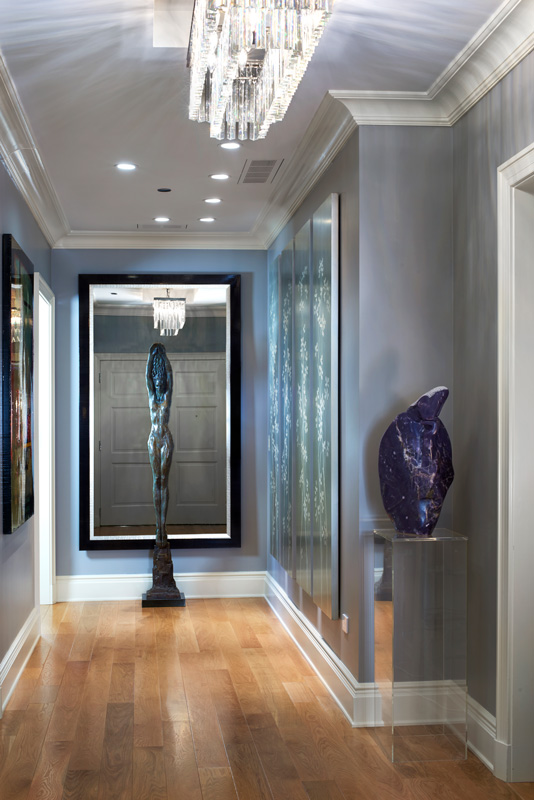 The stainless steel fireplace mantel that we had custom made was surrounded in silver travertine. The homeowner's chose not to drop the ceilings which would have enabled us to install recessed lights so decorative LED track lighting was used to illuminate the large salon.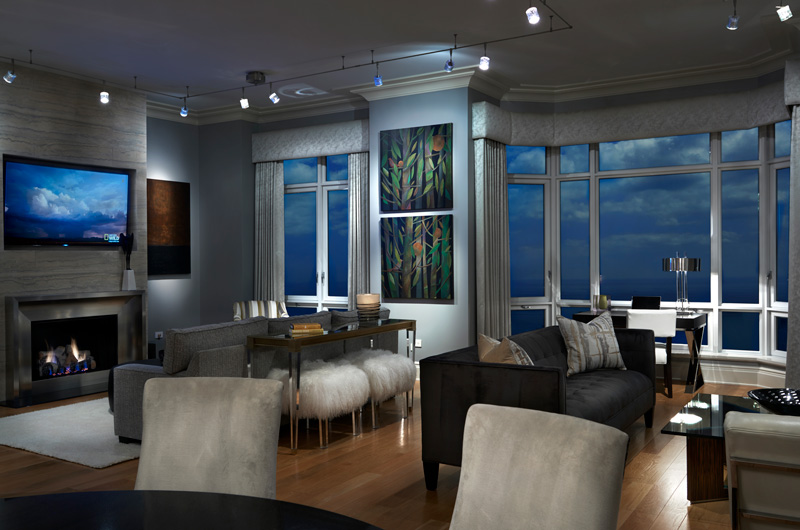 According to the building's rules and regulations the concrete ceilings could not be channeled therefore, we created a medallion to conceal the electrical connection enabling the chandelier to be moved to the center of the granite top table. The back-lit quartzite server enhances the dining room's ambient lighting.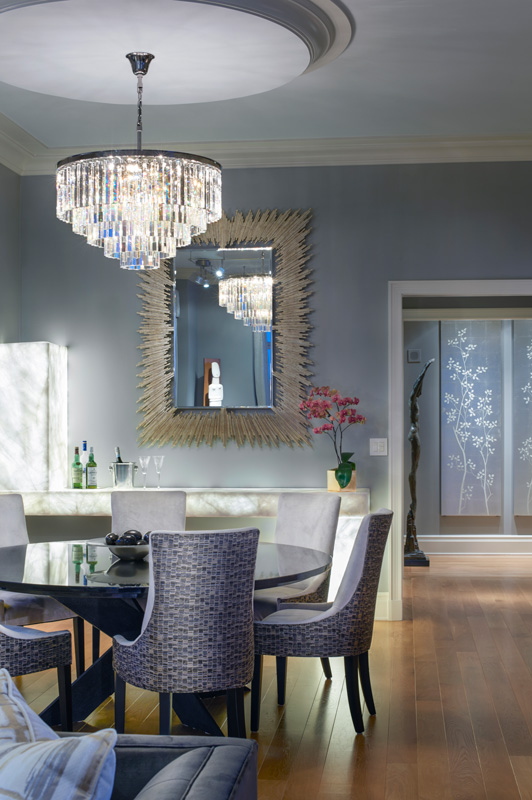 I am grateful to all our clients who believed in John Robert Wiltgen Design, Inc. and allowed my team and I to transform their homes into works of art.