Who doesn't love adventure?
An adventuresome young Chicagoan recently visited Africa where he and his brother "camped'' on the roof of an SUV to avoid becoming a midnight snack for lions, tigers and other hungry wildlife. That audacious spirit also emerged when he chose to establish his own first home at Trump Tower Chicago – an enterprising decision for one barely a quarter of a century old. Aware of JRW Design's reputation for producing award-wining homes in luxury residential towers across the US, commissioning us to make that happen for him carried far less risk.
As a child, he traveled the world with his parents, lived in several foreign countries and cultivated a sophisticated taste level – which he knew we would creatively interpret. And interpret we did, a process greatly simplified by the proximity of our atelier to Trump Tower. With many clients in Chicago's newest landmark, we run back and forth two and three times daily meeting clients and vendors, inspecting work in progress, accepting deliveries and many other design/build related responsibilities. The Donald couldn't have built Trump Tower much closer to us…it's a mere three blocks away.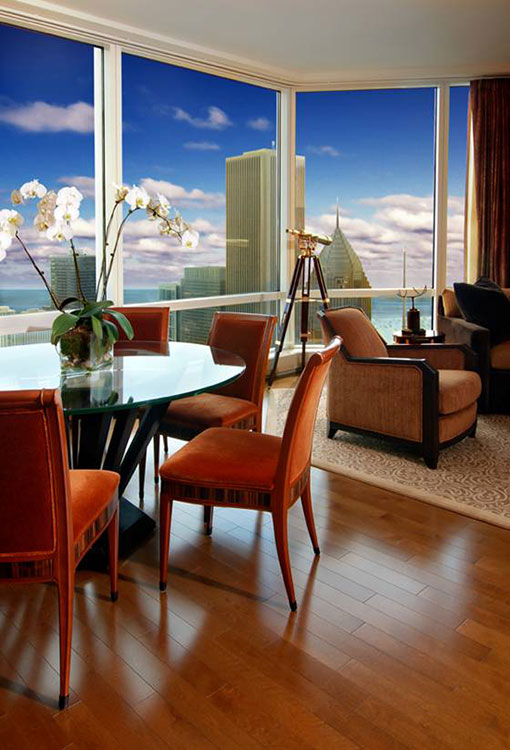 The building's standard finishes were all in place when our client closed on the 2,000 sq. ft., two bedroom condo, then handed us the key and departed for another continent on a year-long business assignment. With his approval, we established a warm, rich, brown and copper-toned color palette to compliment what already existed. And it suited the owner's Trump Tower lifestyle. Carpet and draperies softened the hollow echo created by floor to ceiling windows, wood flooring and other hard surfaces.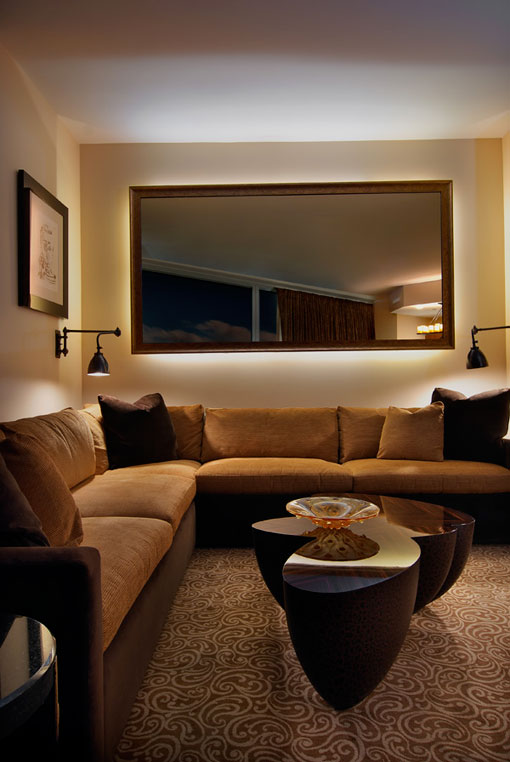 A cocktail table's organic form and sleek finish softens the geometry of the interior architecture. Because the 10-foot ceilings are concrete, the only way to install recessed lights is to lower it 6 inches so instead we used swing arm lamps and a back lit mirror to illuminate the space. To totally integrate art with the architecture and design, we found an original framed Picasso which quietly overlooks the dramatic setting.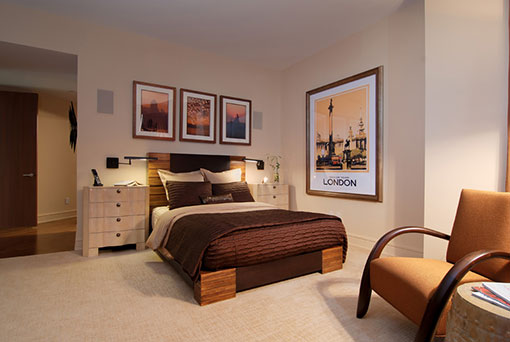 Unusual textures merge in the master bedroom to create an urban oasis. Highly polished goatskin-clad nightstands flank a contemporary-styled bed. The large, wood-framed piece was French polished to achieve a more metropolitan countenance in keeping with its new high-rise home. Bronze wall mounted swing arm lamps allow room for personal effects on top of the chests. The contemporary occasional chair is a combination of ultra suede and mahogany.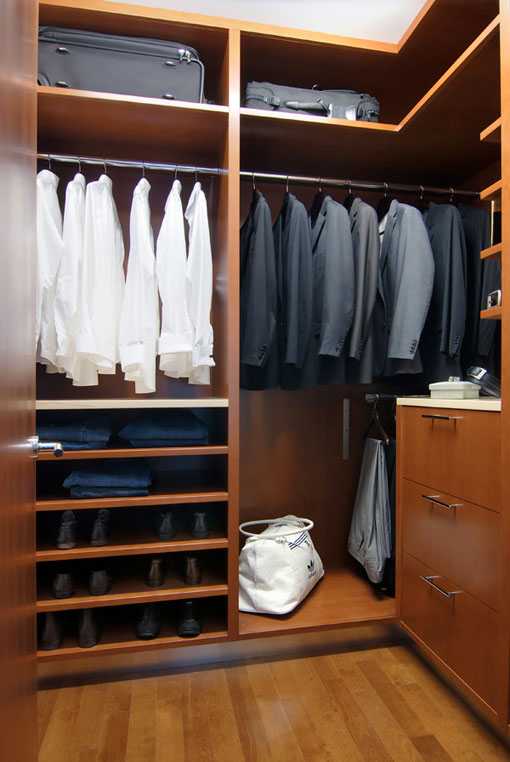 With the impeccably clad young business man in mind, we scuttled the existing closets to create a new, more upscale design for the master bedroom's built-ins – an arrangement that far better suits his suits and other apparel. The owner possesses a distinctive sense of style. While business, not acting, is his forte, he could very well portray a young James Bond.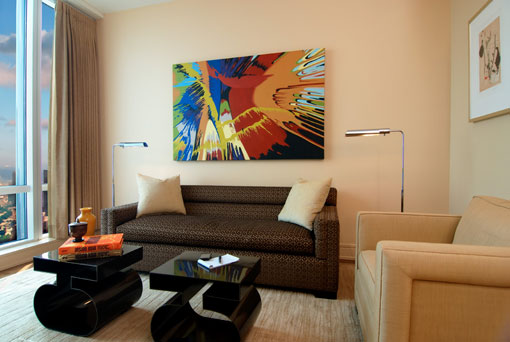 We also relocated a wall helping to ease the second bedroom into a den/guest room. The renovation actually worked to capture additional space we utilized for a custom-designed built-in desk, bookshelves, flat screen TV, computer and other electronic entertainment equipment.
Creating a stylish home that meets the personal and social needs of a young business man resulted in our firm being awarded a second generation project in the owner's family. His parents were so impressed with our in-town achievement they commissioned us to redesign elements of their home in the suburbs. In itself, that was a delightful and welcome compliment.