Imagine a luxuriant indoor garden nestled into an 89th floor penthouse in Chicago's iconic Trump Tower. That lush botanic vision is among the dynamic design elements a Harrington College of Design student used to capture a $1,000 first prize in a competition sponsored by John Robert Wiltgen Design, Inc. The winner is Chicagoan Arthur Garcia-Clemente, 29, now completing work for a master's degree in interior design at Harrington.
In September designer John Robert Wiltgen, the leader of an acclaimed team creating award-winning vertical living spaces at Trump and elsewhere throughout the US and abroad, invited students in Harrington's Competition Studio class to submit a rendered space plan for 14,000 sq. ft. at Trump Tower. With 16 ft. ceilings, the raw, unfinished area is rumored to be a possible Chicago home for "The Donald", the assignment required a space plan and a 3-D color illustration to showcase the students design concepts.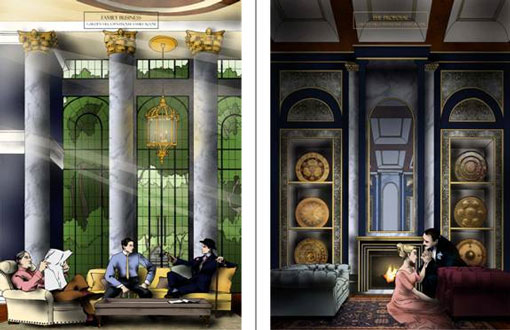 Wiltgen, a 30-year veteran designer, is a professional member of the International Interior Design Association (IIDA). Calling it a once-in-a-lifetime opportunity for students to work in a surreal space he acknowledges the level of luxury living near the peak of Trump Tower as beyond the realm of many, though it is the real world for a privileged group.
"This project was a unique opportunity for students to see and work in that world." says Wiltgen.
In December, Garcia-Clemente and 15 other students presented their work to three judges: Sara Martens, Trump Tower's executive director; Mitch Obstfeld, publisher of I 4 Design Magazine; and John Robert Wiltgen. Obstfeld is a member of Harrington's board of trustees.
Second prize winners were Ann Erskine and Nick Gabriel of Chicago who shared a $750 prize. Oak Park resident Elizabeth Neuffer finished third and received $500. The three are slated to receive bachelor's degrees in interior design from Harrington in 2012.
The size, volume and scale of the Trump space represented a major challenge,"Humanizing" the space Рorganizing it into galleries, each dominated by windows with dramatic, world class views and an abundance of natural light was Garcia-Clemente's solution for taming those obstacles.
"This is the first opportunity I have had to challenge myself to think of an entire space – floor, ceiling and walls." said Garcia-Clemente who integrated a strong traditional design concept within Trump's ultra contemporary environment. In announcing the award, Wiltgen praised the winner's renderings and reflected ceiling plan which he said helped the judges envision the finished space.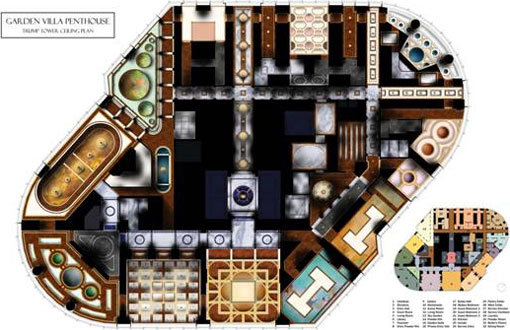 "Interior designers do not sell furniture and/or furnishings – we sell style. You proved that you get that." Wiltgen told Garcia-Clemente, for whom interior design is a second career after earning a degree in economics at Duke University, Durham, NC, and working in the corporate world until he realized how much he missed the siren call of art which had dominated his earlier life.
Labeling the Trump project a challenge to any professional, Harrington instructor Constantine Vasilios believes participation by Wiltgen and Trump's Sara Martens raised the stakes for competitors. "The results are testimony to the students intellectual rigor, discipline and design skills." Vasilios said. Mitch Obstfeld agrees saying he is "simply amazed at the quality and creativity all of these students exhibited in their design concepts for Trump."
While students Ann Erskine, 21, and Nick Gabriel, 24, knew each other casually, they had never worked together until Harrington instructors urged them to collaborate on the Trump project, citing the strength and similarity of their work. After having captured second place in the competition, they now have difficulty not working in tandem. For the competition, the pair opted for a classic traditional design concept, introducing strong dramatic elements to make it work effectively in the contemporary Trump setting, relying on classic symmetry to organize a basically asymmetrical space.
Third place winner Elizabeth Neuffer chose also to strike a balance between modern and traditional styling, ultimately opting for a timeless, universal look she considers appealing to a variety of design preferences. While her influence was strictly classic, her finished product offered slightly more contemporary vibe than that of her peers. Neuffer took care to ensure that rooms used for active living and entertaining are open spaces while bedrooms and other leisure space are more privately grouped.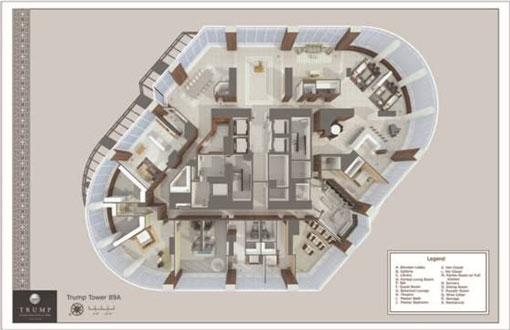 Harrington officials are planning an early 2012 exhibit of these student projects. For information, contact Constantine Vasilios, Harrington College of Design, 312-697-3170 or cvasilios@harrington.edu.