When was the last time you saw a herd of cows marching to pasture across the intersection of Clark and Monroe Streets? I'll bet it's been awhile.
In the early 1800s, before Chicago was incorporated, that land was farmed by Willard Jones. As Jones sold parcels to developers of the emerging city, he needed to preserve a path for his cows to access a nearby pasture. So, as plots were sold, their deeds specified a dedicated perpetual easement or "cow path"' on which construction is forever prohibited. Upheld by the Illinois Supreme Court in 1924, this unique bit of Chicago history still exists.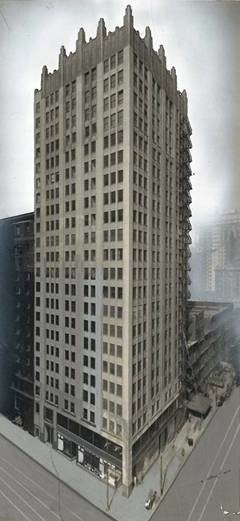 In 1927, when a 22-story Art Deco building went up at 100 W. Monroe St., the site included the "cow path"' now adjacent to the entrance of the new Hyatt The Loop Chicago, a 257 room hotel capped by the rooftop bar which the John Robert Wiltgen Design team has been commissioned to create. Please take a peek at our plans for this exciting new property: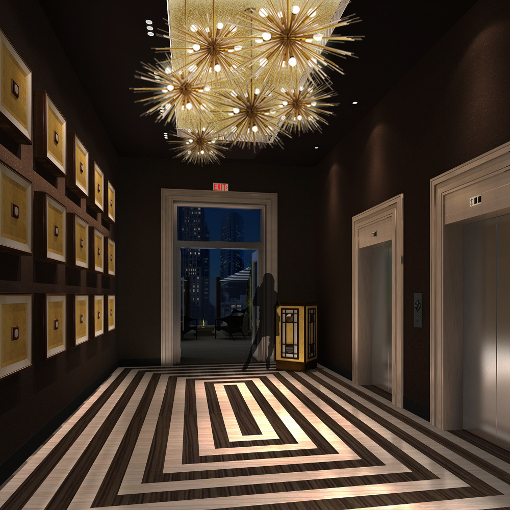 Our interpretation of the building's historic styling welcomes guests to the roof top. The crisp, period-inspired appearance of the porcelain floor anchors the setting. Radiant chandeliers suspended from the gold ceiling enrich its glamour. Precast limestone door trim and casings establish continuity with the inviting lush outdoor garden immediately beyond the double door.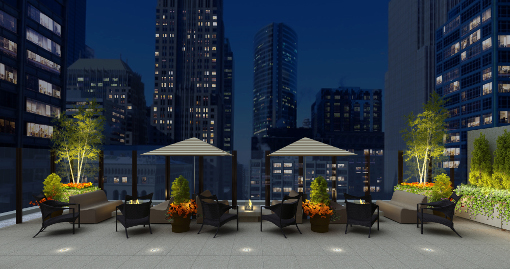 Mother Nature inspired the roof top's rich color palette. A combination of plant material' annuals, perennials, and River Birch trees add touches of greenery that balance the urban architecture. Upholstered love seats offer ultimate outdoor comfort and contrast effectively with polished concrete fire pits.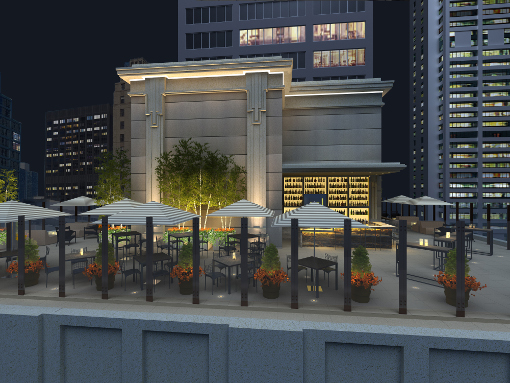 An Art Deco frieze and columns highlight the architectural detail we are adding to the elevator penthouse. The glass parapet does double duty as a windbreak as it optimizes the city's iconic urban views.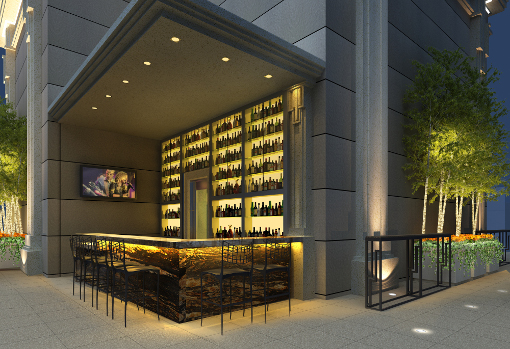 A variety of lighting dramatizes the bar area where a small pilaster repeats the period detailing of the 27 foot tall columns. A backlit panel illuminates the display shelves; LED's are mounted beneath the bar's Quartzite top and apron.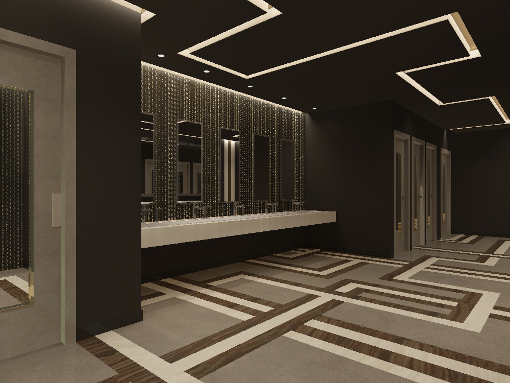 A ceiling channel of LED lighting creates a pattern on the porcelain floor in the women's restroom. A trough-like sink is embedded in concrete counters. Our gracious solutions to the toilet compartments have turned them into small rooms with floor to ceiling walls.
Plans call for a Spring 2015 opening of the roof top bar at Hyatt The Loop Chicago. We are presently consulting The Farmer's Almanac for a sunny day. Please stay tuned.