SPRING. It is that time of year when our thoughts turn to our outdoor living spaces…
That's exactly what's happening at a North Shore estate where the John Robert Wiltgen Design team has unleashed its creativity for the past dozen years.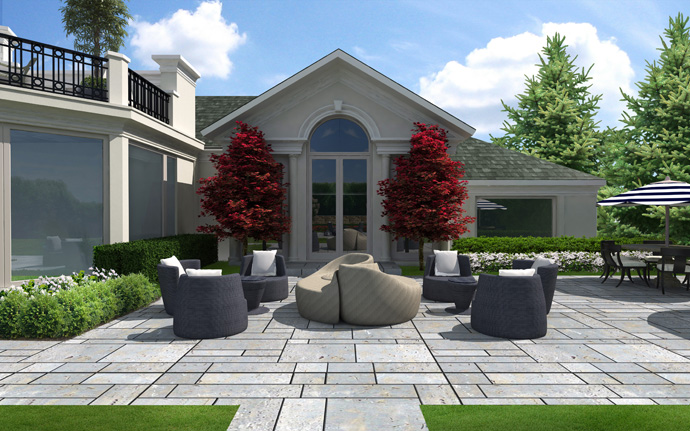 On a bluestone terrace, classic architecture and contemporary furnishings dance cheek to cheek. A gracious Palladian entry welcomes visitors to a viewing balcony above a two-story, indoor basketball court (part of a recent 5,000 sq. ft. sports wing addition). The hardscape establishes architectural continuity, repeating materials found throughout the stately home. All furnishings are weather proof and fade resistant.
From the time we were working on the architectural plans for this home, Stan Sienas of Chalet Landscaping has worked with us and our clients to create this private sanctuary. He has provided great design concepts to compliment our architectural plans; all of the retaining walls and hardscapes; the trees, shrubs, perennials, and annuals, as well as the grounds maintenance.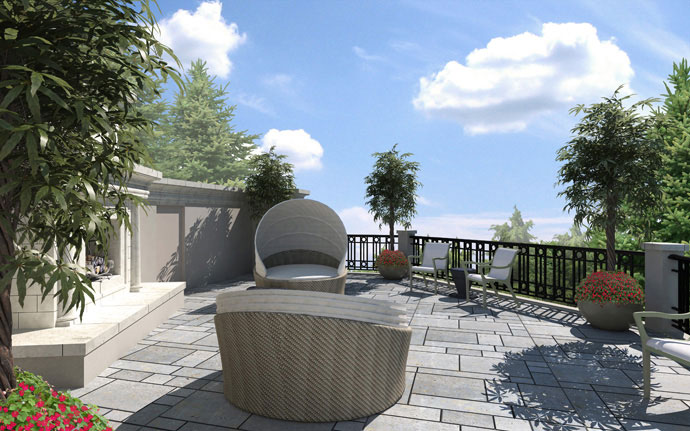 A massive rooftop deck, adjacent to the master bedroom, is directly above a new, ground level exercise room. Bluestone pavers compliment the precast limestone fireplace while magnificent views of the new gardens and sculpted landscape add to the drama of this secluded space.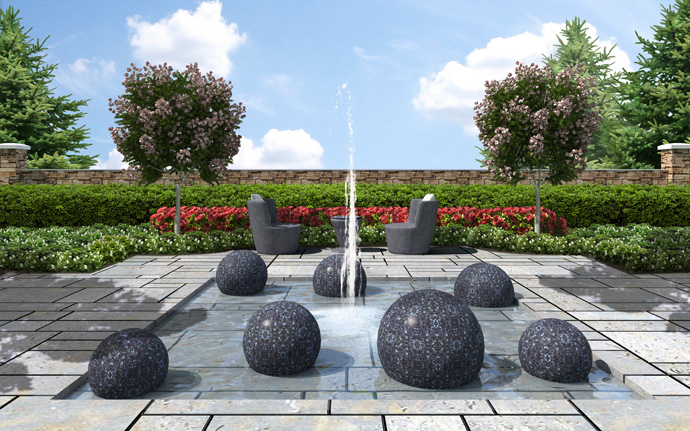 Our current plan proposes an outdoor fountain sculpted with blue pearl granite spheres that one can sit on to dangle weary toes in soothing water.
Through the years, John Robert Wiltgen Design and Chalet Landscaping designed and updated the interior, exterior, and landscape of this estate as the owners acquired adjacent homes to expand their private, park-like surroundings.
If you have any questions, comments about your gardens and/or outdoor living space design, please call us – we would love to help make your dreams come true.