My 30 year adventure in the world of design has been an upward climb – quite literally! During this time, the JRW design team has created many beautiful staircases for some of our more comprehensive commissions. While not all lead directly to heaven, we think they certainly look the part.
Stairways are as much a work of art or sculptural centerpiece as a functional element of the architecture. I want to share with you some of our memorable favorite staircase designs.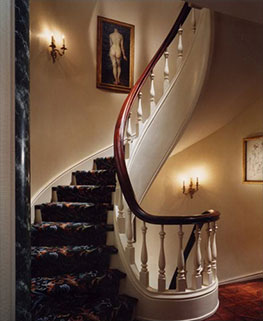 A hand-carved spiral staircase sweeps residents and their guests to the three other floors of a turn-of-the-19th century residence located in Chicago's DePaul neighborhood. The flight of stairs was detailed to look as if it had always belonged to this elegant home even though we had it made for a recent renovation of the property. This home has an elevator and six stairways – three interior and three exterior.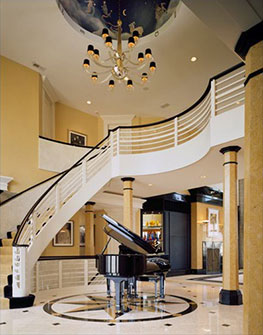 This dramatic stairway's crisp, straightforward styling creates a hip, contemporary vibe that reflects the lifestyle of an active and young suburban family. As clients and friends of our award-winning design team for the past 15 years, we have watched their children grow from infants tentatively learning to climb those stairs to vivacious teenagers scaling them two at a time.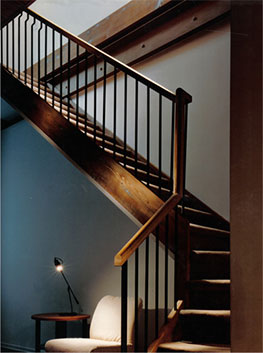 Connecting a great room to a duplex loft's master suite, new lumber was manipulated – distressed, stained and glazed – to perfectly resemble the existing timber in a converted circa 1917 harness factory. The result: a lean, spare staircase that introduces straightforward flair as an important detail in a warm, inviting home.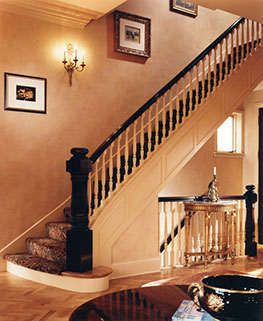 We created this staircase to look exactly as it would have appeared in the 1880s for the model for the Mansions on historic Prairie Avenue. The big chunky newel post, stained handrail and paneled apron made this brand new home look like a renovation of a landmark property.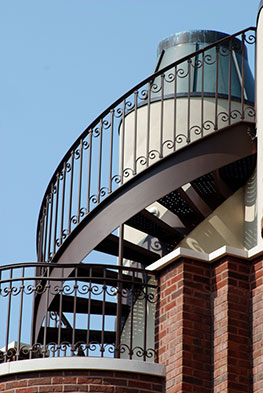 Circular iron stairs wrap sensuously around the stuccoed elevator penthouse of a vintage Second Empire-style home. They create a sense of mystery as they link to a private Juliette balcony overlooking the fourth floor rooftop garden and third floor solarium. We are just putting the finishing touches on this exterior redo now!
Stairs. Staircase. Flight of stairs. However you want to refer to them – they are just one of many ways to make your world beautiful.