Welcome spring! For each of the 30 years of our design practice, we have joyously embraced this promising season. It is a time when nature re-invents itself in a dazzling makeover just as our clients rejoice in the creation of dazzling outdoor living spaces in the most amazing places. Urban terraces overlooking the hustling city, a peaceful patch surrounding a lovely home, or the terraced landscapes of a majestic estate, we always anticipate the long awaited season in the sun.
Now welcome 2011, the year that takes us to the most amazing outdoor space ever. Our assignment: create a pool pavilion with entertaining, lounging, pool and fitness rooms in a climate where temperatures range between 75 to 90 degrees year round with an average rainfall of 120-inches.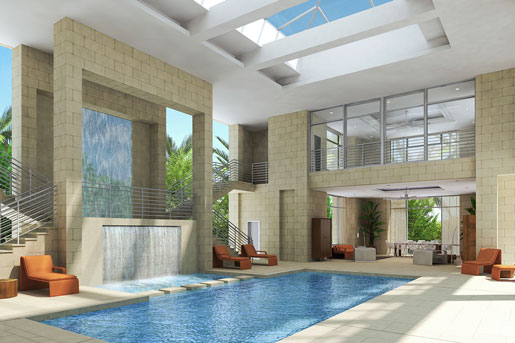 The result is a spectacular synthesis of outdoor and indoor space, a serene and elegant retreat, perfectly suited to the site with panoramic views of the lush courtyard gardens. Navona travertine from Italy was selected for both the interior and exterior of this 5,750 sq. ft. pavilion. A picturesque waterfall provides a soothing symphony of sound as it re-circulates the water for a 750 sq. ft. pool, and an over-sized skylight protects the space during the rainy season. Additionally, a state-of-the-art fitness center occupies the upper level and overlooks this beautiful scene.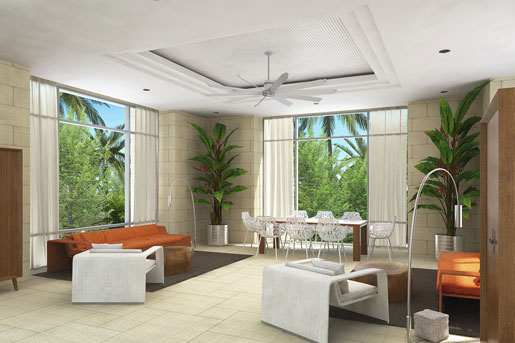 In the adjacent lounge, furnishings of teak, natural tree trunks and durable, all weather fabrics meld glamour with comfort and practicality. This area is dedicated to use by family and friends, as well as for entertaining V.I.P. guests. Graceful lengths of outdoor fabric billow from glass-free openings, allowing breezes to flow through the space, and a fresh color palette nods gracefully to the pavilion's verdant site. We predict this will become the estate's most intimate, yet popular area.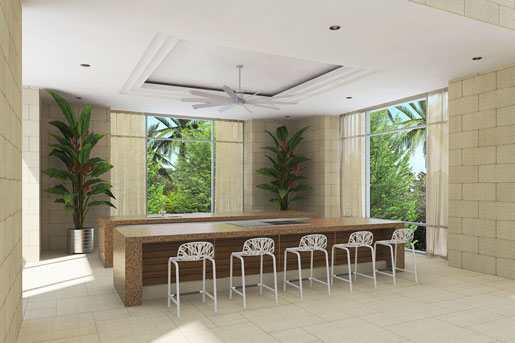 The pavilion's sleek kitchen sports Viking cabinets and appliances manufactured for outdoor use. The countertops feature recycled glass chips embedded in polished concrete' an environmentally-friendly material that is well-suited to the equatorial climate. The bar stools feature a motif of trees springing upright – yet another bow to nature that adds a lacy texture to this chic setting.
Designing successful architecture for a steamy, sultry climate offered some exciting challenges that required innovative solutions. This pool pavilion design is a thrilling project that has inspired John Robert Wiltgen Design to showcase our potential and to envision the creation of more amazing spaces in the future.
Tropics or not, how cool is this?