2020 has been a terrible year to travel. The COVID fire breathing dragon raised it's ugly head and burned much of the travel industry to the ground. Cruise ships, airlines, hotels, Airbnb, Vrbo and restaurants all around the world are having their worst years since the depression.
Travel bans, stay at home orders, restaurant closings in so many places have affected the majority of both business and pleasure travelers' decisions to leave the safety of their homes. Steven, my husband, retired 18 months ago so we could travel to destinations we longed to explore while we were both still able. Of course, those plans have been put on hold until sometime in 2021. Hopefully.
Even though we quarantined before anyone else in the States and wore masks every time we left our home, we were both diagnosed with COVID. My case was much worse and I spent 15 days in the hospital last April when we knew little about the deadly virus. I was dismissed with an oxygen tank that came with a 45 foot long hose. My recovery took several months before I felt 100%. After enjoying the Chicago summer at outdoor restaurants and cafes, once it started to turn gray and overcast we longed for one of our all time favorite destinations – Palm Springs, California.
Every day we checked the statistics regarding the virus. How many people were infected in Riverside County; how many died from COVID; and, what hotels and restaurants would be open. What was the street scene like?
When we finally decided it was safe to go I was shocked to see the miniscule number of homes available for rent through Vrbo or Airbnb during the 5 weeks we planned to be away. In the past we frequented several hotels in the desert, however, this time we opted to rent a house. We completely understood and accepted hotel rules requiring us to wear a mask the minute we left our room and when we worked on our tan lines poolside. A house would provide us with the freedom to walk through the sliding glass doors and relax outside by our own private pool without worrying about that funny tan line a mask creates.
Even though the Tram, all of the museums and landmark home tours were closed it was still worth the trip. Every day the sun shone bright against a sapphire blue sky. The palm trees swayed with a refreshing breeze that wafted down the snow capped San Jacinto mountains. We wandered aimlessly through different neighborhoods to peer, beyond the gates and hedges, some of the spectacular homes in Deepwell Estates (originally an apricot orchard) and Old Las Palmas ( the first community built in Palm Springs features grand old Spanish-Colonial estates with intermittent modernist homes owned by Hollywood legends like Jack Warner, Elizabeth Taylor, Judy Garland, Cary Grant and all the Gabor sisters).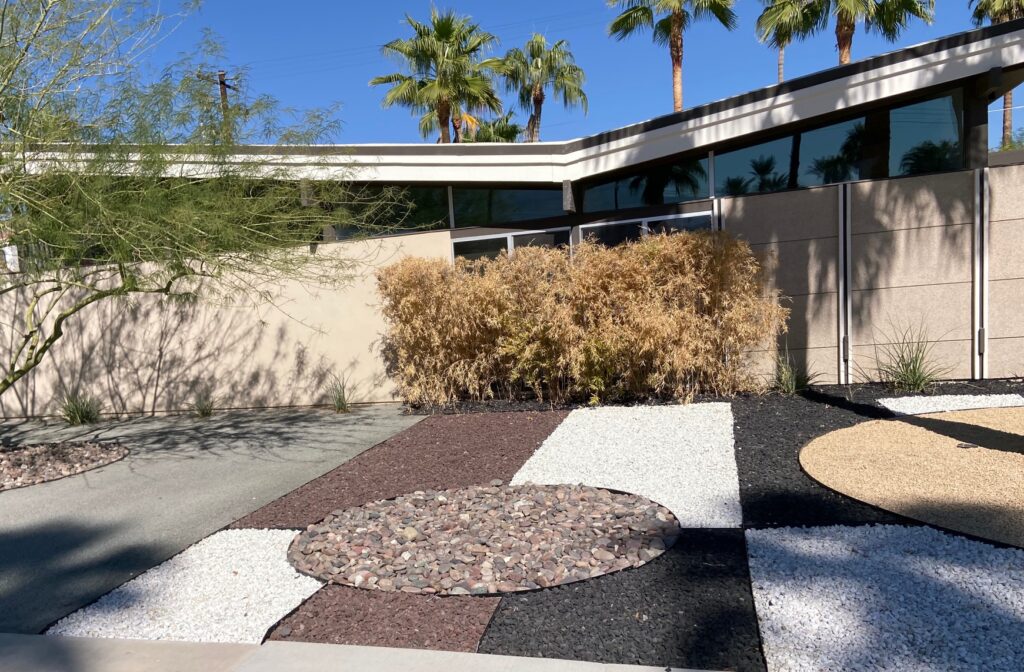 We ended up with a 6 bedroom, 6 bathroom house that included a large kitchen, private pool, and barbeque grill. It was much more space than needed but we put to good use inviting some family and friends to join us – two guest rooms at a time. A friend of ours who lives in the desert visited us and prepared the most beautiful paella you have ever seen (it was muy delicioso) and, on another evening, a family recipe of Columbian Rice wrapped in banana palm leaves topped with grapes.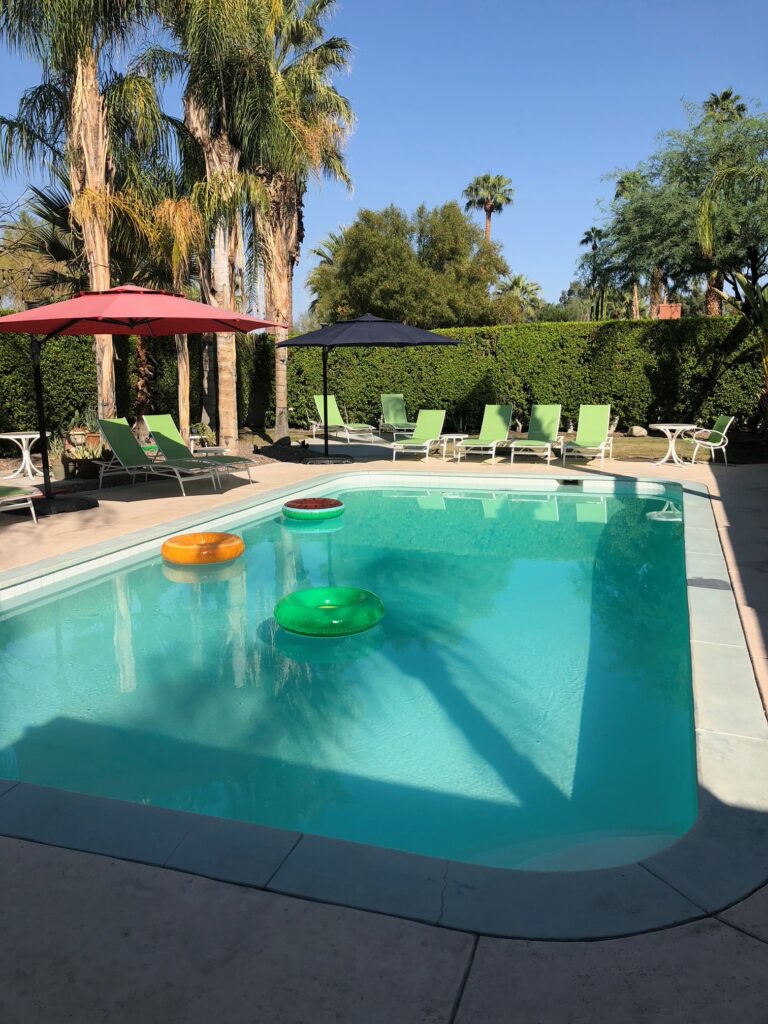 On the weekends downtown Palm Springs was packed. We shouldn't have been surprised, but we were. Visitors came from LA , San Fran, Portland, and Seattle for the same reasons we did. Escape urban captivity. Indoor dining was not allowed, but so many restaurants had beautifully decorated outdoors and the better ones required reservations several days in advance. We breakfasted on the patio at The Farm, a country-chic eatery. We lunched and had several wonderful dinners at Tac/Quila which serves the best nueva Mexican comida and fresh-squeezed juice cocktails on Palm Canyon. Willy, owner of 849 Restaurant was kind enough to always fit us in for an extraordinary meal in is chic and stunning setting. Try their Carrot Cake Sandwich. It is the best on the planet. We Facetimed Nicki Guini, award winning pastry chef extraordinaire at Alinea so she could watch us devour the super sized desert.
Some of our friends went hiking in Indian Canyons. As I'm afraid of rattle snakes, I prefer hiking up and down Palm Canyon exploring new and vintage clothing stores. We were happy to see the majority of stores still in business and open. One afternoon we drove to Palm Desert to check out the art galleries on El Paseo. And since our pool was heated to 90 degrees we swam every day.
When our five weeks were up we hated leaving. No one else was too anxious to leave either as the airport was completely devoid of passengers. The most memorable part of our vacation was sharing time with people we love, the places we went, and the beautiful memories. Palm Springs and the Coachella Desert Valley is the perfect place to do just that.