Late summer is Nature's gift to those of us who love our gardens. Enviable gardens do not just happen; they are a result of a trinity of proven techniques- the thoughtful integration of art, architecture and design. As so many of you know, this has been a guiding principle at John Robert Wiltgen Design since our beginning 35 years ago.
A green thumb, plants, soil and TLC are simply not enough. Three dimensional art- an obelisk, an architectural folly, or an armillary that shows the sun's path helps transform a setting from charming to WOW. But – historically, it's garden sculpture – statuary – that introduces the sought after edge that elevates a setting from wondrous to OMG.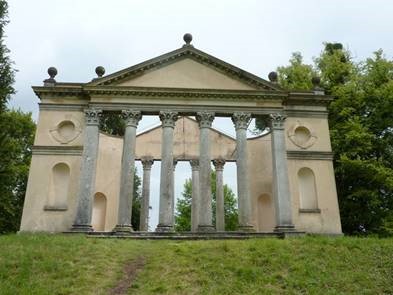 I especially like the way sculpture is used in Italian gardens and I have visited many of the grandest in Venice, Florence, Rome, and Lake Como. Since the earliest Roman settlements, Italians have expertly cultivated their land with beautiful and creative displays of nature, where terraces and walkways, plants and flowers, water and statuary are combined to provide unique and inspiring settings.
Recently, I discovered an amazing sculpture that is looking for a garden to call home. It is a life size bronze copy of Gian Lorenzo Bernini's The Rape of Proserpina. In this case, the word "rape" means "abduction". Pluto, the powerful god of the underworld is seen kidnapping a Roman goddess. In true Bernini fashion, the act is captured at a moment of intense motion and struggle. She twists her body to free herself, resisting Pluto by pushing against his forehead; her other arm stretched out for help. She screams in agony as tears slide down her cheeks. The original sculpture was carved from marble more than 400 years ago by the then 23 year-old Bernini.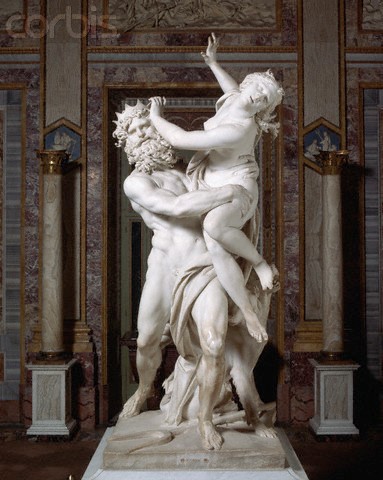 Considered a valued national treasure, the masterpiece is under heavy guard; photographs are prohibited. It is exhibited in the round so it can be appreciated from all angles. Three faithful reproductions of the full scale statue were made by the renowned Foundry Chiurazzi. The foundry has an exclusive gallery of plaster casts, produced by copying the originals guarded in various Italian museums. Chiurazzi has molds from the statues in the Museo Nazionale in Naples, the Museo Vaticano, Museo Capitolino, and Museo di Villa Borghese in Rome, to name the most famous. Chiurazzi's one of a kind, priceless casts are absolutely necessary for the bronze reproduction of exact copies of classic sculptures such as The Rape of Proserpina.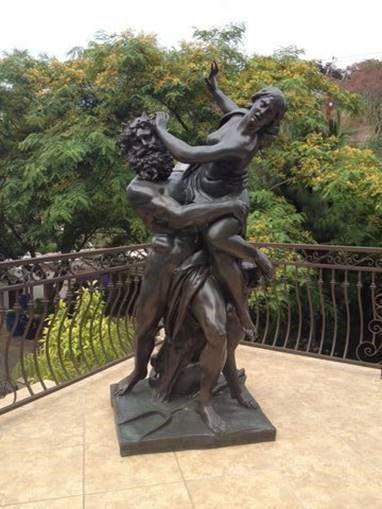 Chiurazzi is a well renowned foundry. In the 1970s Chiurazzi received a significant commission for J. Paul Getty during the construction of the Villa. In creating a museum based on the design of the Villa dei Papiri in Herculaneum, it was logical to include replicas of the famous statues found there during the excavations in the mid-18th century. The Chiurazzi replicas at the Villa remain on view today. They provide a great opportunity for visitors to see these statues as a wealthy Roman would have —as a collection of figures interacting visually enlivening the Villa's gardens.
If you click on the television screen (above) it serves as a hyperlink to a video taken by the owner of the Proserpina sculpture when he and his wife were at the foundry. It shows the process of the molten bronze being poured to create another famous sculpture. Solid bronze and weighing nearly 18,000 pounds, two are believed to be with royal families in the Middle East. A third is at a private residence of a Beverly Hills, CA. businessman/philanthropist. Now wouldn't that impressive, rare piece look marvelous in your sculpture garden? Contact me for details.
But when you are in Rome checking out the original, please don't try to sneak away sharing a selfie with the statue. That could treat you to an arrest and maybe even an overnight stay in an Italian jail (or longer).
May Your World Be Beautiful. And your Sculpture Garden, too.