Claude Monet's position among the world's most admired and recognized artists was secured when one of his early 20th century paintings of water lilies sold for $55 million. It happened just days ago – June 23 – at a Sotheby's auction in London.
Monet was not a darling of the art buying public in 1906 when that painting was created. Considered the father of Impressionism, Monet's work produced hostile reactions from the conventional art community. Critics said his technique – freely brushed lines and bold color – violated the rules of academic painting. Nonetheless, he began producing large scale pieces more appropriate for museums than collector's private homes.
Gradually attitudes changed; people began falling in love with Monet's endearing and iconic works – especially those featuring his lovingly constructed lily pond at Giverny. After his death a creative approach to handling some of his huge canvases launched a method of bringing more Monets to collectors.
Fragments of some of his oversized canvases began appearing on the art market. The source? Monsieur Blin, the son of the gardener who worked intimately with Monet to develop the artist's stunning garden at Giverny. Monet's family inherited his prolific body of completed art. But he left the huge pieces to his beloved gardener. Creating the huge panoramas was apparently a process similar to editing a film. Much ended up on the cutting room floor. Blin saved the scraps.
Currently the big auction houses welcome these more intimate works of art, most of which do not include Monet's signature.
Recently, the John Robert Wiltgen Design team assisted a client in adding a historic "piece" to a family home. This one came with a certificate of authenticity from the Paris-based Wildenstein Institute, considered the foremost authorities on Impressionist art.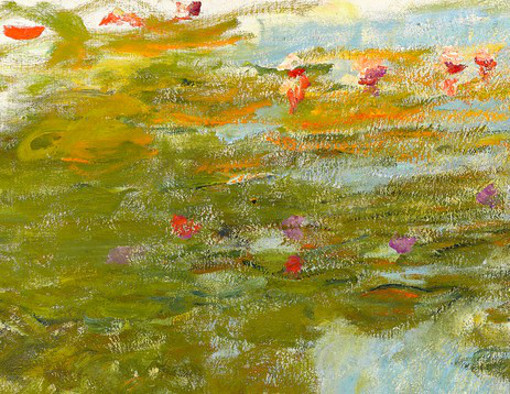 How does one even begin to describe the Monet fragments? Selling for $50 to $60 million, few buyers can acquire a full scale painting of the magical Giverny gardens. But many more may be interested in a fragment costing a fraction of that price.
Did you know that 15 paintings of Stacks of Wheat which Claude Monet exhibited at the Paris gallery of Paul Durand-Ruel on May 4, 1891, were immediately hailed as a significant breakthrough for the artist? They are scattered in museums and collections the world over. The Louvre has one. Six of the haystack paintings line a wall of the Art Institute of Chicago, five from the original group exhibited by Durand-Ruel representing the largest concentration of this seminal series found anywhere. Before the exhibition even opened, however, 10 of the paintings had already been sold – nine to Chicago collector Bertha Honore Palmer.
In 2012, Monet's circa 1901 Waterloo Bridge (London) was among works by Picasso, Matisse, Gauguin and Lucian Freud stolen from Rotterdam's Kunsthal gallery.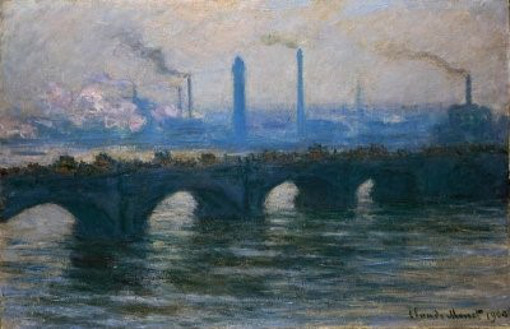 Three Romanian suspects were later arrested, but the paintings have not been found. Instead, one of the suspect's mothers told police she destroyed the stolen works in a wood-burning stove in an attempt to free her son from prosecution for lack of evidence. These works still have not been located.
We have assisted many of our patrons in obtaining numerous museum quality works of art: This Monet and one other, Picasso's first multi-colored lithograph now in a client's living room, a reclining Botero bronze strategically placed in a garden enabling guests to view it from the front door entry, and, a suite of Warhols for a foyer/gallery, just to name a few.
Please consider allowing us help you develop an investment quality art collection you can enjoy in all of your homes and offices, wherever they may be.