Did you know that Pablo Picasso was suspected of stealing DaVinci's iconic Mona Lisa from the Louvre? He was exonerated though when the real thief, a museum employee, was busted.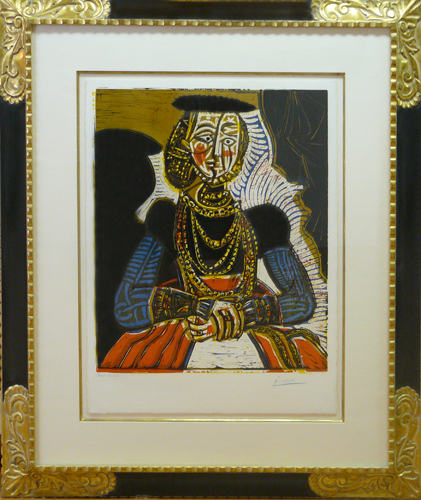 There's nothing illegal or suspicious, though, about the important Picasso piece we- the JRW Design dream team- recently placed in a client's home. While we frequently assist our patrons in acquiring valuable additions to their art collections, this adventure was a fun way to start 2013. Nicknamed "The Cranach", it is an artist's proof (one of 15 created for an edition of 50 prints) of Picasso's interpretation of a painting done 400 years earlier by 16th Century painter Lucas Cranach II. Created in 1958, it is Piccasso's first and most complex linoleum cut, then a new technique (for him) he was experimenting with. Rich coloration and the combination of cubism and classical portraiture elevate the original print to a historic category and establish it among Picasso's preeminent works. Other artist's proofs and pieces from the numbered edition are owned by the Tate Galleries in Europe, the Met, Moma, the Norton Simon Museum in Pasadena, CA, the National Galleries of Scotland, and the Museu Picasso de Barcelona.
Coincidentally, the Art Institute of Chicago is having it's first major exhibit of the artist's work in almost 30 years. "Picasso and Chicago" – opens to the public Feb. 20 and runs through May 12. Included are 250 paintings, sculpture, prints and drawings.
Here's another art zinger. More of Picasso's paintings have been stolen than those by any other artist – 550 missing at last count.